Paul has been a Full KAP Instructor (KAP 1 & 2), 2nd generation, since 2010. His permission to teach was granted by Tao Semko.
Paul Densmore's Bio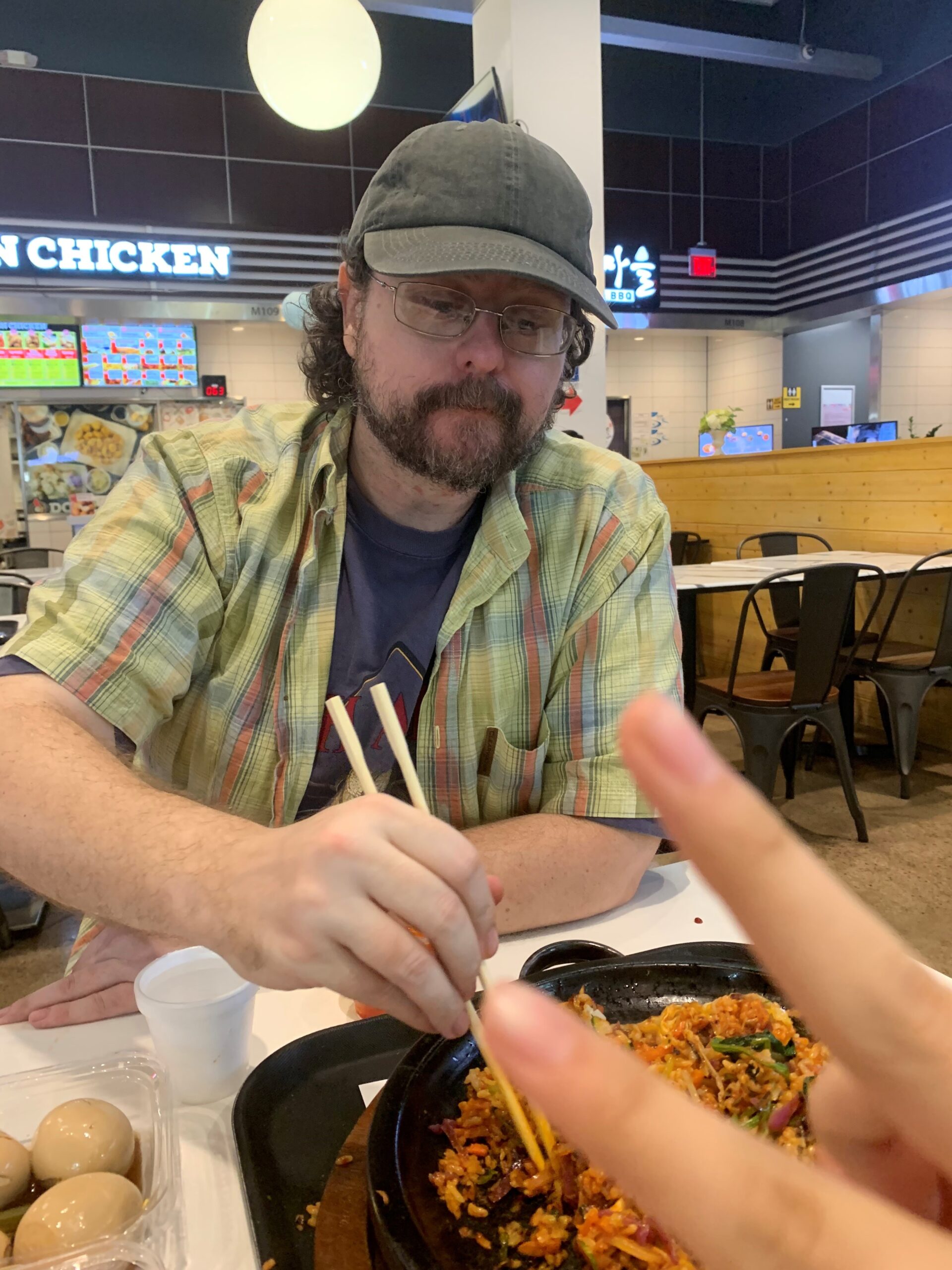 Paul Densmore has lived through interesting times. After graduating with a B.F.A. in Sequential Art from the Savannah College of Art & Design (SCAD/Savannah, GA) he chose the ex-pat lifestyle. He travelled to Seoul, S. Korea where he lived, taught English & got into much mischief in the suburb of Bundang. After a year of this he returned briefly to the U.S. where he received his NLP Practitioner certification from Philip H. Farber (Kingston, NY). Next, he chose Beijing, China (PRC) as his destination. His NLP skills helped him to gain rapport & applause as the resident Oral English Professor & Foreign Expert at the Beijing International Studies University. The students that were empowered during his lectures are still a source of great pride for him.
During this time his greatest adventure began in the form of a new family. Paul & his wife Yuan were married in a private ceremony in Nanjing, China (just outside the gorgeous President's Garden). The small tribe was complete upon the arrival of their daughter, Toni Li.
Paul & his family continued to live in Beijing for about 2 years before they came to the U.S. During this time Paul received further certifications in Hypnosis & Handwriting Analysis (HMI/Tarzana, CA). Most importantly, he began taking KAP 1 & 2 with Tao Semko during this period of his life. After diligent practice he underwent the process of Kan & Li/Kundalini. This has marked one of the most profound & exciting chapters in his script. He most enjoys sharing any new modalities, healing, empowerments, blessings and/or techniques that are gained through his practice with fellow members of the KAP tribe.
Paul now spends his time as a published novelist, real estate investor, Hypnotherapist (Hyp/NLP/HA), devoted father, & ex-ex-pat in his hometown of West Monroe, LA. His novel, The Cinderella of Chimes, is available on Amazon.com
Classes Taught by Paul: Improved Kundalini Awakening Process 1 & 2, Creativity Enhancement, Theurgy & Thaumaturgy 1a, 1b, 2a, 2b, Pay-It_forward, Kuji-In Reality Hacking
Contacting Paul:
Paul currently prefers to be contacted via email:
Email : therevdr23(at)gmail(dot)com for more information & to register. Send Paul a private message introducing yourself as a KAP applicant, followed by a completed KAP Applicant Questionnaire.
Paul's Skype id for live Q&A: therevdr23 (you will need to download skype; it's free.
Other ways to get a sense of Paul's teaching style and sense of humor:
Paul's youtube: 23therevdr,
Paul's novel, The Cinderella of Chimes, available on Amazon.com:

Testimonials for Paul's instruction:
I had a great time taking KAP1 with Paul Densmore in 2010. The 12 week program was inspiring and noticeably deepened my personal meditation practice. KAPs take on chakras is easy to understand and powerfully effective at opening and clearing the centers when combined with Doc's 4/8 breathing. If a person is truly interested in kundalini it really helps to get an expert perspective from a great teacher like Glenn Morris who worked and played with energy for a long time. Without guidance from those who are further down the path you spend a good deal of time doubting yourself and wondering if there are more effective practices out there that give more consistent results with less effort:) KAP is streamlined, packed with the good stuff, trimmed of the superfluous rituals that cloak the simple mechanisms powering any effective internal energy system.
I'm a pretty good judge of the effectiveness and completeness of an Energy System due to my personal experience with the Kundalini.
I started doing many hours of daily yoga in March 2005. In December 2006 I went through the full kundalini about 3 days into reading a Mantak Chia book and practicing some of the exercises therein. Early on after my kundalini awakening I read Doc's book "Pathnotes" and knew then that i wanted to learn more about his personal take on energy cultivation.
Since my kundalini transformation in 2006 I have studied and practiced a number of different chi development systems, all of them good, many of them withholding critical information. KAP is not one of those withholders. It covers ALL the basics needed for the internal alchemy but most importantly, it is really really effective at guiding a person into that special state of being where it becomes
fun and interesting to feel the energy centers and move the energy around.
For those new to the concept of Kundalini KAP is also not vaque about what kundalini is or feels like, or what is needed to awaken and circulate it. In my experience KAP
is top notch material for those genuinely interested in the real deal. It's well organized, simple to understand, all the nitty-gritty research has been done for you, all you need to do is integrate the practices and work with them every day. On top of all that, KAP doesn't feel like work, Doc through KAP keeps emphasizing "Play with this, have fun!" Paul as a teacher
and KAP1 as a system are both Effective, Fun, and Powerful motivations for positive change in a person's life!
I plan to play with this material for a very long time:)
Thanks for making KAP available!
Namaste,
Theo
***Class Schedules***
I had been reading Dr Glenn Morris' books for over ten years. His path has inspired my whole direction in life. I had practised some of his meditation methods on and off over this period…always with interesting results, however I always seemed stop and start. After purchasing his meditation mastery cd's a year ago I instantly made great progress as the practices were more complete than described in his books and they contain alot of addition explanation on the meditation exercises. Although maintaining the practice for a longer period this time I stopped again, and again with very interesting results. I admitted that I needed help with this so I chose to bite the bullet and did the Improved Kundalini Awakening Process 12 week Skype course. It is amazing!! I dont know why i didn't do it years ago! I have had alot of high level teachers in my internal martial arts career as I'm an instructor in Hun yuan tai chi and Xing yi quan. But these guys are the best teachers of internal training I have ever come across. They know what they are doing big time! Paul Densmore is the most brilliant teacher I have ever come across and as a result of his very close guidance I have progressed further in my kundalini awaking than ever before. The KAP level 1 course contains information that Dr Morris only ever passed on orally…and let me tell you, it makes a massive difference to your meditation sessions and prevents chi getting stuck in the head (was a big problem of mine) and in negative regions of the chakras. I feel like for the first time in my life i actually have a teacher of kundalini that actually wants to help me within my meditation progress and not just leave me in the dark when i ask questions!!
Even after the first Skype session I made progress in leaps and bounds, I linked up with Paul what i felt was on a soul level. The guys energy is immense and he really has put in secret smile into each of his chakras and his orbit as I would literally totally crack up with laughter when ever I connected to him. I still don't understand how he gets any work done. The guys energy seems to be bubbling with intense laughter all the time. That in itself says alot someones level of development in my book! I'm now very suspicious of 'spiritual' people who don't seem to have alot of humour and laughter in their presence, body language and teachings.
With each week of instruction the exercises direct the energy more and more precisely into the awaking of the kundalini. Literally, if you do the practice, there is no way that you won't achieve kundalini. They know what they are doing and best of all, they know what can go wrong and how to avoid it and fix it if things do go slightly off track.
All i can say is, if your thinking of whether or not to do this course. DO IT! You will not regret it.
God bless and thanks Paul.
Chris Radnedge.